Contents
---
Interior door is mainly designed to divide and secure the private space. However, apart from practical functions each door has and additional function — decorative.
Alongside with increasingly growing range of door-related products the requirements put forward to door exterior appearance and color become the matter of great concern in selecting the necessary product.
Just change the door to drastically change the premise appearance. For this very reason, door's exterior - finishing details, color scheme and decorative components – are coming into sharp focus.
Selection of the door color is very often a challenging and nerve-racking task to fulfill for those who decide to independently develop their own dwelling design.
Whilst selecting the interior door color you should not stick to any boundary since there are no any stringent rules regulating the use of any particular shade. You totally need not observe any standard. Fantasy and sense of style — this is essential.
White — most functional color
To the top
White doors perfectly dovetail with any premise. Definitive advantage of white color - feeling of aeriality and freedom put in place. You shouldn't worry whether white doors are in tune with floor, windows or furniture since they will never discord with other items of interior.
"Belwooddors" is producing door leaves with following types of white facings:
White enamel.
White enamel with silver patina.
Bianco Nobile polypropylene.
White CPL.
Wenge — deeply dark accent in a light premise
To the top
"Wenge" term is currently used by the manufacturers to identify various dark shades including dark chocolate, maroon, coffee black, dark brown etc. up to black.
Doors designed with such shades favorably appear in light, up to milky white, environment: the stronger dark/light contrast you apply the more favorable design solution will be.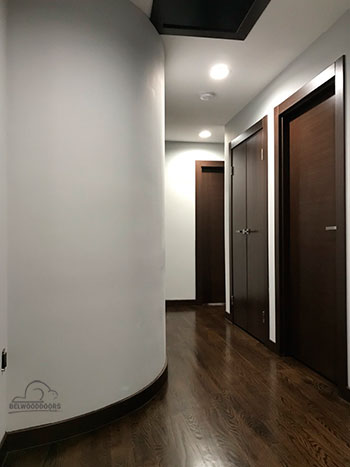 The Classica Lux door in wenge veneer matches the dark floor/p>
"Belwooddoors" company is manufacturing interior doors decorated in "wenge" and, if ordered, "wenge-padouk" colors, glazed and blank.
You can view our doors design and appearance in our Internet catalog:
If you are flirting with an idea to buy and install the doors with coating as above you should take the following into account:
Installation of such doors in oblongish and poorly illuminated premise is not a good idea.
"Wenge" coated doors require special care; get ready for frequent cleaning: such surfaces perfectly exhibit dust, water splashes and even minor damages.
View the doors faced with "wenge" and alike dark coatings.
Floor and door colors compatibility
To the top
Approach practiced by the majority of designers: select door color which shows best compatibility with floor surface shade. This method seems advantageous where all premises have similar floor shade.
With different floor coatings you should identify the floor shade in particular premise and, subsequently, select the door color in line with it.
Where the floor is covered by fitted carpet, rich-color tiles or linoleum the door shade may have the same color with floor in the sitting room (hall) or corridor, however, a couple of tones lighter. Obviously, it would be expedient to support the selected door tone by similar furniture shade in order to avoid cacophony in the interior.
Furniture and doors color scheme
To the top
The door shade should be preferably matched with dominating house furniture tone.
Where dark furniture is dominating it is expedient to select similar shade doors, however, a couple of tones lighter.
Where furniture installed in different premises differs in style and color scheme it would be appealing to install combined color doors to match particular premise. Needless to say, these doors are out of standard and, therefore, more expensive, while at the same time how fine they are looking!
The Napoleon 1 door next to the furniture of a close shade
Wall and door colors compatibility
To the top
When selecting the doors color you should first of all assess how doors color matches the walls.
White doors will nicely match with walls colored in various shades of white.
Neutral shades — white, grey, cream — are sought after in Europe; door trims and baseboard designed in the same shades constitute comprehensive coloration design of the whole interior.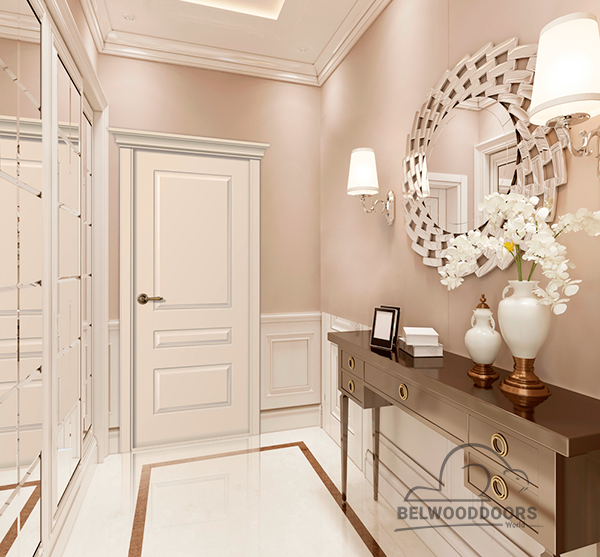 The Royalti Door (ivory color) in a neutrally colored interior
General recommendations
To the top
While selecting the interior doors you should preferably concentrate on the dominating style of your dwelling.
With different designs of premises constituting your dwelling place it is expedient to select the doors with reference to sitting room (hall); style of corridor or ante-room entry way may also be taken into consideration.
Doors designed in natural shades will match any style.
Warm colors create cosiness and very often become appropriate specifically for ethnically designed interiors.
Dark wood ("wenge", for instance) will splendidly fit classic design of the room.
Classic interior will beyond any doubt accept either light-shaded or deep-dark doors.
"Country style" interiors will agree with antique style and natural shade doors. They look immaculately in the general layout and give the room more distinction.
Interiors touched by aura of minimalism mutually complement with cold-shaded doors and dark
interior doors designed in "shell-and-core" style ("wenge" color, for instance).
Neutral shades are relevant in any type of interior.
Interior doors designed in black natural wood as well as red, black, dark blue-coated doors will be particularly topical for modern interiors.
Your dark flooring will splendidly agree with glossy or varnished white/light doors having no protruding/sharp edged elements and almost flush with the wall.
Door color may — but not obliged to — match the furniture color.
Color of interior doors may not fit the floor finishing color.
You may select any exotic color for your door provided it is present in any other elements of your interior, for instance, in window frames, baseboard or door trims.
Acceptable may be same color of window frames and interior doors.
Solid-glass doors and doors with glazed elements look peculiarly nice in premises having no natural lighting or in combination with windows having small daylight area or in premises with low artificial illumination.
View all Belwooddoors-manufactured doors
To the top
---
We also recommend to read the articles:
Other articles
What does an interior doors unit include when you buy it?
The door is not only the door slab, but also the unit for the slab installation into the rough opening (door-frame, casings, extensions) and hardware, that ensures the door operation.
READ MORE
More about the Perfecta and Capricheza door collections
In this article we will tell you about our interior door models "Perfecta" and "Caprichesa"
READ MORE
We are always happy to meet our possible partners and invite you to cooperate on terms that will be equally beneficial not only to us, but to you. We can offer the most favorable variations on the implementation of interior doors in USA.
The main rule of our cooperation is the provision of the most acceptable and beneficial terms for both parties, not only at the start of the partnership, but also
during the entire period of our joint work.
We provide you with a special and truly exceptional product - interior doors from the manufacturer.
The firm "BELWOODDOORS" provides each of its partners with constant assistance in the foundation of their business and will be happy to give the dealers such conditions:
favorable pricing policy and accumulative bonuses;
exceptional initial working conditions;
advertising and information support;
very large, all-time supported size door storage;
All without exception door leafs, which are presented in the catalog of our company, are made of excellent raw materials. They are very reliable. The doors can be supplied with accessories that include the most resistant types of locks with the newest closing system.
The firm "BELWOODDOORS" occupies favorable positions in the wholesale trade of doors throughout the country. We are ready to work on favorable terms for you and offer the widest choice of interior doors.
We are the manufacturer, therefore the prices at us are accessible. Our staff will always help you in choosing our products.